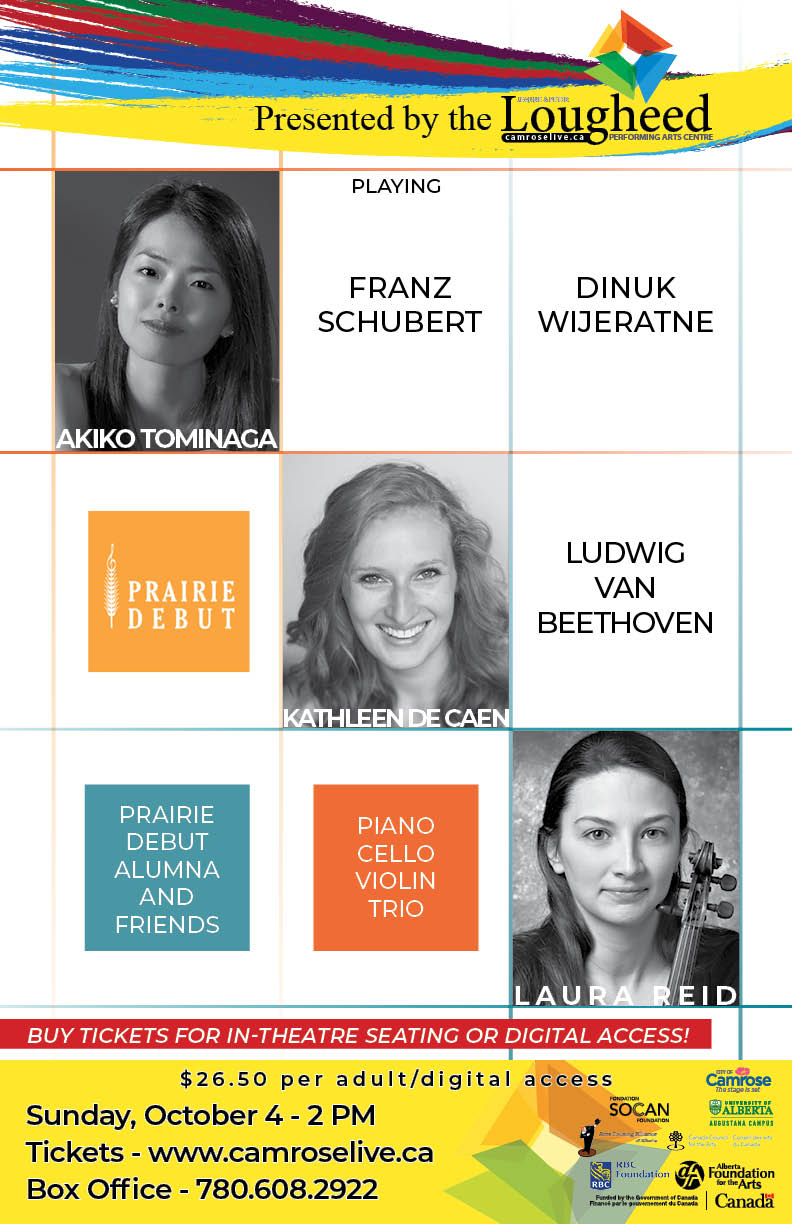 Prairie Debut Alumna and Friends
When
Runs from Sunday October 4 2020 to Sunday October 4 2020
Approximate running time: 1 hour and 15 minutes
Venue
Event Notes
×
The Lougheed Centre is bringing a special classical music performance to Camrose in collaboration with Prairie Debut. And tickets can be purchased for in-person or digital access.
This special presentation brings a trio of musicians who will perform music from three excellent composers – Schubert, Wijeratne, and Beethoven. Set for Sunday, Oct. 4 at 2 p.m., this is a show that will warm your hearts as the temperatures start to cool in Alberta.
Prairie Debut alumna pianist, Akiko Tominaga, is joined by her musical friends; violinist, Laura Reid and cellist, Kathleen de Caen, in a program that celebrates the pinnacle composers of three musical periods.
Romantic era composer Franz Schubert, famous for his lyric vocal songs, begins the program with Piano Trio in B-flat major D. 898 "Sonatensatz", which evokes the exuberance of his youth.
One of Canada's most prolific composers, Sri Lankan-born Dinuk Wijeratne, brings together Middle Eastern-inspired melody and North Indian rhythms in "Love Triangle", a boundary-crossing work that also integrates a classical structure with three very improvisatory cadenzas from each instrument.
Finishing the program will be a celebration of Ludwig van Beethoven's 250th Anniversary, a work simply known as the 'Archduke', this work culminates Beethoven's canon of piano trio repertoire.
As with all our shows this season, patrons can buy tickets and attend the performance in-person or purchase a digital access.
If you're unable to attend, buy the digital access and watch with your whole family or cohort group and be able to access the performance three days after the live event. It's just another way we're bringing the arts to Camrose and our patrons.