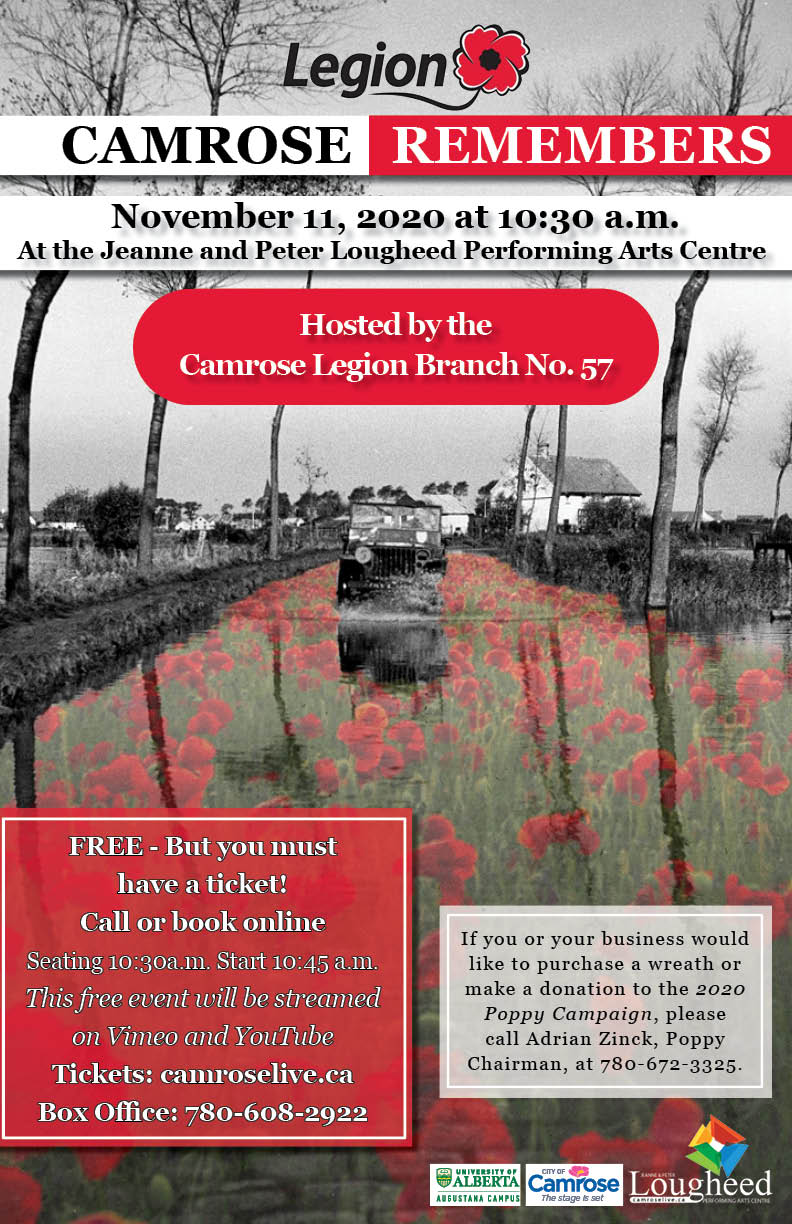 Camrose Legion Remembrance Day
When
Occurs on Wednesday November 11 2020
Approximate running time: 1 hour
Venue
Event Notes
×
Camrose Remembers - Hosted by the Camrose Royal Canadian Legion Branch No. 57
We're excited to join forces with the Camrose Legion Branch No. 57 to commemorate Remembrance Day.
With physical restrictions still in place, the Lougheed Centre has donated its Cargill Theatre space to allow for 100 attendees indoors for the service. Our hope is to provide the Legion with a space sufficient enough for a gathering under current health guidelines in a safe manner while also providing a live-stream opportunity for those unable to attend.
This year's focus of the commemoration is on the 75th anniversary of the Second World War, Victory in Europe, May 8, 1945.
The program is organized and held by the Camrose Legion with Lougheed Centre staff providing the technical needs of the service and live stream of the commemoration.
"We will remember the more than one million Canadians and Newfoundlanders who went to war in Europe 1939 to 1945 and especially the 42,000 who made the ultimate sacrifice," states the Camrose Legion.
The commemoration will also focus on the 75th anniversary of the Victory over Japan, Sept. 2, 1945. "We will remember the 1,975 Canadians who were involved in the defence of Hong Kong. Five hundred and sixty-seven were killed or died in prison camps."
Camrose Remembers.
If you or your business would like to purchase a wreath or make a donation to the 2020 Poppy Campaign, please call Adrian Zinck, Poppy Chairman, at 780-672-3325. Or text your donation to 20222 and you can have your donation go to a specific Registered Poppy Fund Charity.
This is a free event to the community, however, anyone wishing to attend must have a ticket as seats are limited. AHS rules apply. You will be able to watch the digital stream on Vimeo and our YouTube page.
There are several ways residents can participate in this year's Remembrance Day commemoration:
Get tickets to this free event here, call the Box Office at 780-608-2922 or email: boxoffice@camroselive.ca
Watch on the live stream of the commemoration on our Vimeo and YouTube pages
Doors open at 10:30 a.m.
Seating is at 10:45 a.m. for the commemoration to begin shortly after