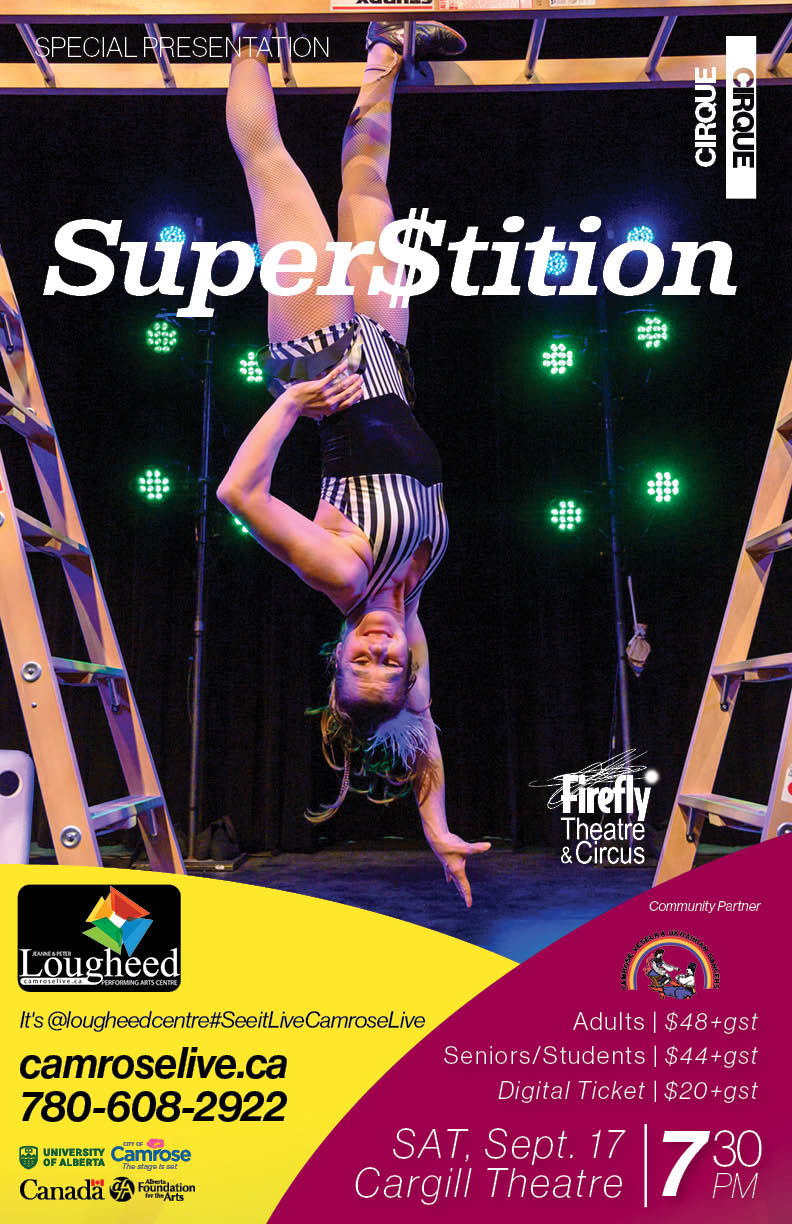 SuperStition
When
Runs from Saturday September 17 2022 to Saturday September 17 2022
Approximate running time: 1 hour and 30 minutes
Venue
Event Notes
×
Firefly Theatre takes to the stage with a spectacular circus and magic cabaret about prophecy, fortune and luck. Super$tition will poke fun at the things we believe will bring us luck, or ward off evil, with our flamboyantly courageous style! Featuring Edmonton actor John Ullyatt, our special guests magician Billy Kidd from the U.K physical comedian Martin Varallo and contortionist Eliza Lance from Montreal, along with our amazing Home Team of YEG circus artists! Don't miss this show - it's bad luck!
Firefly Theatre and Circus was founded with the intent and purpose of combining circus arts and theatre. Since 2001 we have been inspired and energized by the fusion of these two disciplines, and we continue to believe that they offer us an unparalleled avenue for storytelling. From the start, Firefly Theatre and Circus has created a diverse body of work.
Our productions have taken place in intersections, wading pools, on the sides of buildings, inside structures made of shrink wrap and scaffolding, as well as traditional performance venues. Our creative vision is continuously altered by the various particulars of each project, and the questions and challenges they pose. Our mainstage performances have a singular artistic vision that integrates two or more art forms.
Each discipline involved serves as a "story-teller"; it is partially responsible for driving the plot as opposed to being decorative. Like a recipe, we play with the balance between theatre and circus arts, narrative and expressionism, altering the quantities of the ingredients to achieve the desired outcome. Firefly continues to be one of the only companies in Western Canada to work in this genre.
Our events make an important contribution towards the diversity of cultural options available to the general public in our geographic area. Our productions showcase people dancing, climbing and flying all over local venues, allowing Edmontonians to see other Edmontonians performing dramatic, upside-down aerial maneuvers up close and personal. "In our lively local scene, there is nothing quite like Firefly Theatre." The Sun. The company was honoured with a City of Edmonton Excellence Award in Arts and Culture, a Mayor's Award for Innovative Artistic Direction, and the inaugural Edmonton Events Awards Best Entertainer.